FLOWPACKER HOLLY HFP 45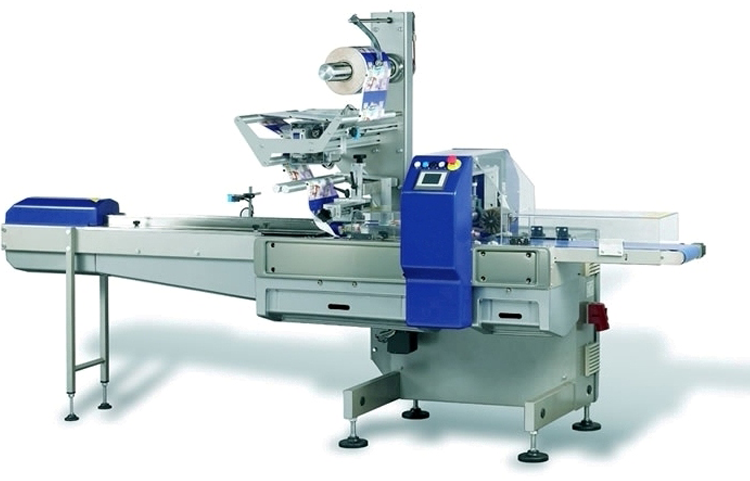 Volautomatische Flowpacker voor het verpakken van diverse ongesneden soorten brood, kleinbrood of andere bakkerij producten. De producten kunnen per stuk verpakt of in een ketting-zak met meerdere tegelijk verpakt worden in een plastic folie middels de 360 graden ronddraaiende beitels. De Flowpacker is compact en eenvoudig in gebruik. Deze machine is ontworpen voor kleine of medium grote bakkerijen.
Elektronische horizontale pillow pack machine, betrouwbaar en eenvoudig voor meerdere soorten producten te gebruiken. Het speciaal ontworpen frame en de makkelijke bereikbaarheid van de onderdelen in de machine, zorgt ervoor dat de machine eenvoudig schoon te maken en onderhouden is.
The principle for the machine is standard, but the version can be adapted with the optional features. The flowpacker can be connected with any type of closing machine to suit the customers particular request, including: Clipband, Kwik-Lok, Twist Tie and Tape seal. The machine can be constructed for either left or right-handed operation.
Vanuit een standaard ontwerp van de machine zijn er diverse opties mogelijk om deze aan te passen aan de wensen van de klant. De Flowpacker kan worden gecombineerd met diverse sluitmachines en transportbanen afhankelijk van het product en de eisen van de consument. Bekende systemen die wij toepassen zijn Clipband, Kwik-Lok, Twist Tyre en Tape seal. De machine kan in zowel een rechtse als linkse uitvoering worden geleverd.
OPTIES
Print unit voor de houdbaarheidsdatum.
Fotocel voor registratie printpositie.
Verstelling voor lange of korte slag producten.
Dubbele folie rolhouder.
Polytheen versie.
Verlenging invoerband.
Zig-zag messen.
Euroslot stempel.
Geen product, geen zak.
CAPACITEIT
HFP-45: maximaal 30-60 verpakkingen per minuut
De uitvoersnelheid van de verpakkingsmachine hangt af van de specificaties van de verschillende producten.
Naast de Flowpackers op onze website hebben we diverse soorten flowpackers in ons assortiment. De keuze is afhankelijk van het type product en de wensen van de klant.
Neemt u gerust contact met ons op om de mogelijkheden te bespreken.