Happy New Year 2021!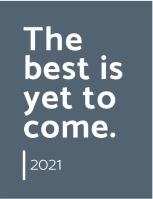 Welcome 2021! A new year has arrived and unfortunately we are still dealing with a
global epidemic. However, we do see signs of economic recovery and further control
of this epidemic.
We believe in the future, our clients and partners and look forward to a further
deepening of our relationship.
We wish you all a successful and above all a healthy 2021!