PACKAGING LINE HTA-15 (CLIPBAND)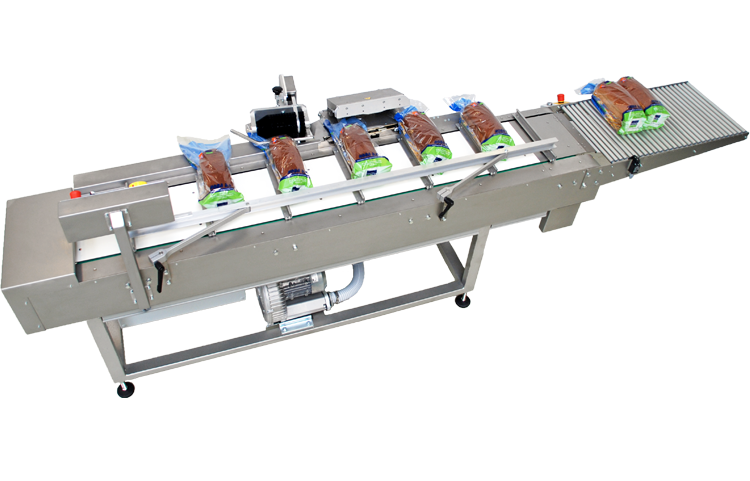 Volautomatische verpak- en sluitmachine met clipband sluitsysteem. Mogelijk te combineren met diverse type broodsnijmachines met blaasapparaat tot een semiautomatische lijn of met een broodsnijmachine en Bagloader tot een volautomatische lijn. Horizontaal geplaatst of onder een hoek, waarbij diverse lengtes van de transportbaan mogelijk zijn.
Het blaasapparaat opent de zak, waarna de producten eenvoudig verpakt kunnen worden. Bij combinatie met een Bagloader wordt de handmatige handeling met het blaasapparaat vervangen door een automatisch systeem welke dit overneemt en de zak op de transportbaan duwt met een meenemer/peddel. Hierna brengt de intermitterend werkende transportbaan de zak naar de sluitmachine om deze te sluiten met clipband. Tijdens sluiten verwijdert een vacuüm machine de overtollige lucht uit de zak. De HTA-15 is van hoogwaardige kwaliteit met geharde mechanische componenten en is geschikt voor het sluiten van zowel plastic als papieren zakken (bij specificatie tijdens bestelling). Een minimum aan onderhoud en maximale veiligheid garandeert een bedrijfszekere sluitmachine.
OPTIES
Borstelmachine type HBT.
Holly Blaasapparaat type HBB voor handmatig verpakken van producten.
Vacuümpomp voor het verwijderen van overtollige lucht uit de zak.
Uitvoer transportband in plaats van powerfree rollen.
Extra 500 mm transportbaan voor installatie van een labelmachine.
RVS afschermkappen en frame grijs RAL 9007.
Holly Datumprinter voor het printen van een datum op de sluiting.
CAPACITEIT
HTA-15: maximaal 2.000 broden per uur
De snelheid van de machine is afhankelijk van het type product en de operator welke de producten toevoert en afneemt van de machine.
BROCHURE
VIDEOS
Snijmachine HSA-2, Bagloader HBS, Packing Line HTA-15 - Volautomatisch