Another satisfied customer bakery Doomernik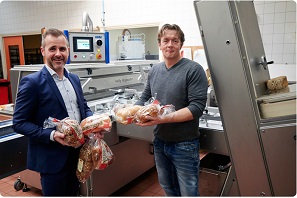 With our sales distributor Beko we have sold a small industrial fully-automatic line for bread but this line can also be used as a semi-automatic line for buns and rolls.
This line has been made according the requirements of the customer. For example the infeed of the buns have been made removable and on wheels due to the limited space in the bakery. Also there is made a bypass on the back side of the bagloader line with an extended conveyor. By this the bakery can also use the conveyor with clipping machine for small amounts of products instead of having change-over time on the automatic line, and they are able to use the line for 2 products at the same time.
We are happy to hear this positive response to the line just after the installation.
For the whole article (in dutch):
http://www.beko-techniek.nl/html/projecten_doomernik.aspx