Home>SERVICE AND SPARE PARTS
SERVICE AND SPARE PARTS
We can provide our clients with excellent service by multi-skilled technicians, 24 hours a day, both nationally and internationally. In order to ensure professional device and reliable service at all times, we cooperate with independent agents for all over the world.
Spare parts
The necessary spare parts are normally available from stock. When an order for spares is placed we do our best to send these the same day for delivery as soon as possible with our clients. We use the best forwarders in order to provide the soonest delivery date for your location.
If you are in need of spare parts for HOBA machines please contact us or by your local agent.
Service or technical problems
To request any technical advice, support or plan a annual maintenance please contact us and we will be happy to assist in any way we can. We have our helpdesk 24 hours per day available for prompt assistance in case of a breakdown.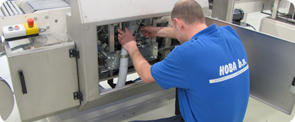 Contact us by: