FLOWPACKER HOLLY HFP 75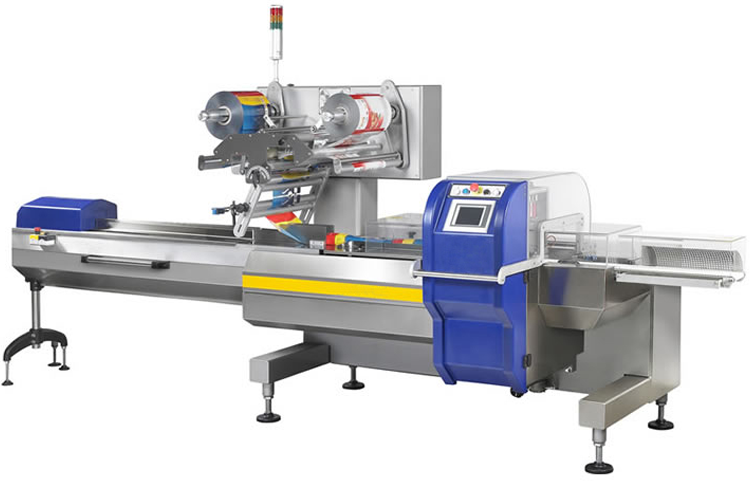 Fully Automatic flowpacker for the packaging of various sliced and unsliced types of bread, small buns or other food products. With rotary jaws to pack the products in the film both for single-close and for multiple packages. Heatsealable wrapping material such as polypropylene, aluminium foil, cold seal material, paper and laminated are suitable.
The flowpacker HFP 75 extremely sturdy and suited to operating on automatic systems as it can handle multi-axis loaders. This machine stands out for its special cantabile longitudinal sealing units enabling high speed film sealing also when gas resistant seals are required.
Electronic Horizontal Pillow Pack Wrapper, versatile and reliable and very flexible in the format-change. Cantilever frame and easy accessibility to make the cleaning and maintenance simple.
The principle for the machine is standard, but the version can be adapted with the optional features. Any slicer is simple to connect to the bagger by using our synchronization system with flights which brings the product one by one to the packaging machine. The flowpacker can be connected with any type of closing machine to suit the customers particular request, including: Clipband, Kwik-Lok, Twist Tie and Tape seal. The machine can be constructed for either left- or right-handed operation.
OPTIONAL FEATURES
On edge version.
Fourth set of sealing wheels.
Roller conveyor through the up jaw.
Reel holder width 920 mm.
Long dwell transversal sealing jaws.
Film pre-heating bar.
Motorized film unwinding.
Printing unit for expiry date.
Printing unit for expiry date.
Double reel holder.
Polythene version.
Infeed extension.
Zig-zag knives.
Euroslot punch.
No product no bag.
Automatic feeding.
Gussetting device.
CAPACITY
HFP-75: up to 30-60 packages per minutes
The performance statistics of the packaging machine depends on the specifications of the different type of products.
VIDEOS
HSA-2 SLICER, FLOWPACKER 75 Automatic slice and packing line for bread
We also have other type of flowpackers depending on the type of products and the customer requirements.
Contact us for more information about the possibilities!